Exceed! Premier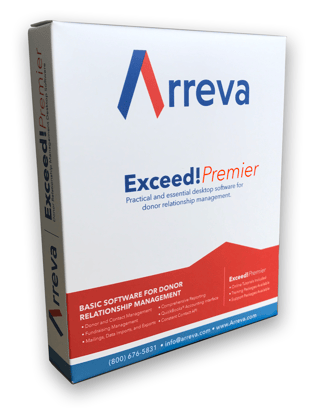 If you are searching for complete, full-featured desktop software to better meet your fund raising and donor relationship management needs, Exceed! Premier is your answer.
Comprehensive, easy to use, and specifically designed to meet the unique needs of nonprofits, Exceed! Premier helps you organize your development data, maximize your fund raising efforts and cultivate relationships with donors, prospects, and other constituents.

Here are some of the features Exceed! Premier offers:
Donor and Contact Management: Organize and track your donors, prospects, board members, volunteers, and other constituents. Record the history of every transaction, view lifetime giving, key information, and more.
Membership Management: Track membership levels, renewal dates, dues, payments, and retention efforts.
Fundraising Management: Understanding and managing the details of your donors' gift giving data is vital to maximizing your fund raising efforts. Exceed! Premier enables you to easily manage members, all your events, and more.
Comprehensive Reports, Mailing, and Data Exports: Easily generate reports with menu-driven options or custom queries. Efficiently and effectively reach out to your donors with personalized letters, mass mailings, and e-mails. Analyze your campaigns and present your results using Excel, Word, or PDF formats.